17 Excellent Affiliate Marketing WordPress Themes
When it comes to your website, first impressions really do count. Everything from color palettes to font choices can impact whether a visitor clicks on your affiliate links. But, with so much riding on your site's design, picking the perfect theme can be intimidating.
Fortunately, it doesn't have to be a challenge. There are dozens of high-quality themes that are ideal for various affiliate marketing niches. By understanding a few of the stand-out options that are available, you can find your perfect fit.
Start Building Your Affiliate Marketing Website Today
This article will walk you through 17 of the leading affiliate marketing themes for 2022. So let's dive right in!
1. Zeen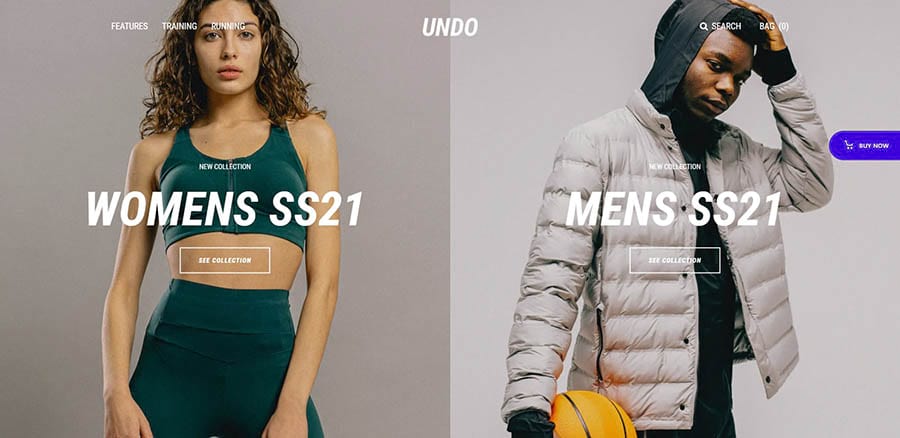 We'll start with a remarkably flexible theme. Zeen can help you create anything from a magazine to an online store – all with highly-customizable features.
Here are just a few options you'll gain access to:
Advanced design features to improve the User Experience (UX)
Built-in product swatches for colors, images, and buttons
Support for Google voice search
If you're selling affiliate products, you might be particularly interested in this theme's various sales features. For example, you can add a prominent 'add to cart' function wherever you like. By linking this button to your affiliate partners' sites, you can provide users with an easy way to purchase products.
Pricing: Zeen costs $39 and comes with six months of support. If you'd like to extend that to 12 months, it will cost an extra $10.13.
2. Astra
Astra is a very popular WordPress theme. With super-light code and countless layout settings, it's a powerhouse when it comes to fast loading times. However, that's not all.
Its other powerful features include:
A huge library of pre-built websites to choose from
Design flexibility thanks to its compatibility with page builders
Optimized speeds for all device types
If you're looking to reduce your site's bounce rates, Astra might be the best option for you. Faster load times mean you can appeal to even your most impatient visitors. However, you might also choose this theme if you want maximum design freedom.
Pricing: The basic version of Astra is free. However, if you want full functionality, paid options begin at $49. You can also choose from two higher-tier plans with premium features: the Essential Bundle ($169) or the Growth Bundle ($249).
3. Divi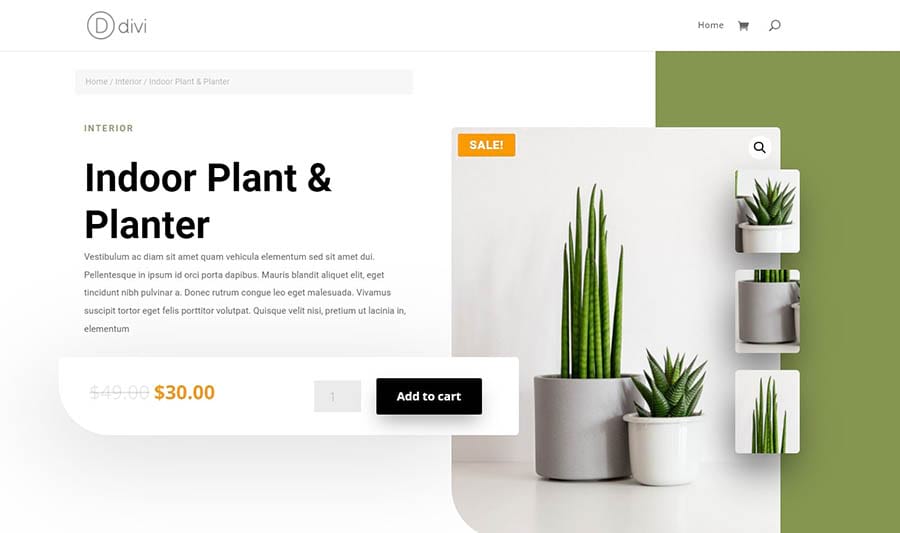 Divi is another incredibly flexible option. This theme enables you to control almost every aspect of your site.
You're free to choose from a huge variety of design options, such as:
Subtle shadow features that you can use to highlight certain products
Dynamic animations to catch your visitors' attention
Optional advanced code editing within the engine
Additionally, Divi also has a companion program: the Divi Builder. This page builder is optimized to work with the theme for a smoother website creation experience. If you're looking for an all-in-one solution for seamless site design, we suggest that you consider Divi.
Pricing: Divi pricing begins at $67 per year. This includes the Divi Builder. If you'd prefer only to pay once, you can also get the same features for a lifetime license fee of $187.
4. Neve
Today's users can access your website from various devices – and mobile is at the top of that list. So Neve prioritizes modern, mobile-friendly designs to help you reach the maximum number of shoppers.
You might also appreciate a few other stand-out features like:
Drag-and-drop customization for headers and footers
Lightweight code for excellent loading times
Global color palette options for centralized redesigns
We recommend Neve if you have a robust social media following. Visitors usually access these platforms from mobile devices. As such, your promotional links should lead them to a well-optimized mobile version of your website.
Pricing: Neve licenses start at $59 per year. However, the Business plan might be better if you're making many affiliate sales. This plan starts at $149 per year.
5. Zox News
Zox News is a multi-purpose theme. You don't have to run a news-based website to use it – as long as you're looking for a dynamic, effective way to advertise your content, this theme is a smart choice.
Other benefits included in this theme are:
A free Reviewer Plugin to display reviews and comparison tables alongside your content
Featured areas to promote specific formats such as videos
Sticky sidebars to improve site navigation
Zox News also provides you with the choice of eight different article layouts. That's why we recommend it if you want to provide more dynamic content. Users may feel that too many similarly-structured articles become repetitive. This theme's built-in variety can help you easily add more diverse formatting.
Pricing: You can purchase Zox News for $55. You'll also receive six months of support at this price point. To extend that to a full year, you can pay an extra $16.13.
Get Content Delivered Straight to Your Inbox
Subscribe to our blog and receive great content just like this delivered straight to your inbox.
6. Silk
If you're building a fashion-forward blog meant to show off the latest trends, you might want to consider Silk. However, this theme isn't just for fashion – as long as you're seeking a way to showcase your work, Silk can be an excellent fit.
Other stand-out features you may like include:
A mega-menu option for ease of navigation
Integrated social tools to make sharing your affiliate offers easy
A huge selection of top-tier typography tools
If your affiliate sales strategy relies on a more visual approach, this theme can be a smart choice. That's because Silk is an especially media-friendly theme. Thus, it's an easy way to share high-quality product photos or videos with your audience.
Pricing: Silk's pricing starts at €70 per year (about $79). This includes one year of support and updates. If you prefer a one-time fee, you can opt for the lifetime edition.
7. Affiliates Bloglet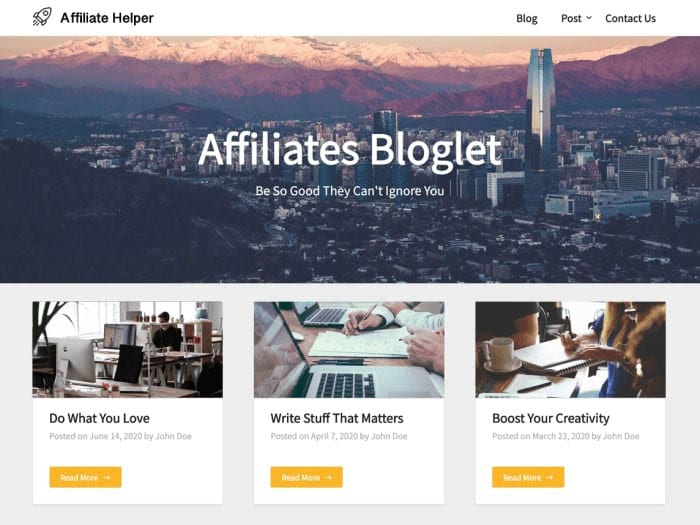 If you run a website focused on written content, we recommend that you consider using the Affiliates Bloglet theme. That's because it offers a clean interface and responsive design.
As such, your visitors can enjoy a minimalist experience no matter where they visit from, in addition to other features like:
Without busy elements, your blog can take center stage. However, minimalist doesn't have to mean empty. You can also use the white space around your content. That's why we recommend Affiliates Bloglet if you're running ads alongside your affiliate products – there's plenty of space for them.
Pricing: Affiliates Bloglet is a child theme of Blogrid and thus follows its pricing plans. The premium options start at $29. In addition to Affiliates Bloglet, you'll also gain access to three other child themes.
8. CouponXL
Many affiliate sites offer deals and coupons as a part of their offers. If this sounds like your strategy, the CouponXL theme might be your perfect fit.
Whether you're just starting out or an established figure in the affiliate marketing game, this theme can help you with features like:
Consider choosing the CouponXL theme if you want to use cloaked links. This feature helps you hide potentially spammy-looking URLs. That means you can build user trust while still earning affiliate commissions.
Pricing: You can purchase CouponXL for $39. To upgrade the six months of support to 12, you can pay an additional $10.13.
9. Tokoo
When it comes to promoting affiliate links, images can be extremely influential. That's because they're an easy way to demonstrate what you're selling. If you want to take advantage of this strategy, consider using Tokoo.
Other impressive features of this theme include:
Responsive menu options for easy navigation
Predefined design palettes for a quick start
Minimum white space for a sales-focused approach
If you want to mimic the layout of top-tier ecommerce sites, you might want to choose Tokoo. It can help you apply the same attention-grabbing format to your affiliate products. The variety of image formats on offer will also help with this.
Pricing: Tokoo is available for $59. If you're not ready to commit, you can also use the free trial offer to take it for a spin.
10. Mai Creative Pro
A stunning website can go a long way towards increasing sales. The more you can emphasize your professional skills, the more you can build up your users' trust. That's where Mai Creative Pro comes in.
It combines an aesthetically-pleasing design with clean, functional options such as:
Highly customizable widget areas
Full control over the appearance of your header to match your affiliate branding strategy
Custom page templates to help you build a beautiful site quickly
Mai Creative Pro might be the best choice if you're a beginner. It may be customizable, but it's also impressively user-friendly. When combined with the wealth of detailed tutorials, it's a top choice for your first theme.
Pricing: You can purchase Mai Creative Pro for $99. You can also check out its full demo if you're still on the fence.
11. Herald
Herald was designed to act as an online newspaper. However, that doesn't mean you'll be choosing a limited option. With plenty of ways to prioritize content, you can show off your favorite articles and best affiliate links.
You might also appreciate the following features:
Nearly 500 variations on your listing layouts
Unlimited sidebar and color combinations
Built-in social sharing features
If you're using affiliate marketing as one of many monetization strategies, you might want to consider Herald. This theme makes it easy to add banner ads to your home page, archives, or even single posts – all without having to know a single line of code.
Pricing: Herald's price comes in at $69. To upgrade from six to 12 months of support, you can pay an additional $21.38.
12. SteadyIncome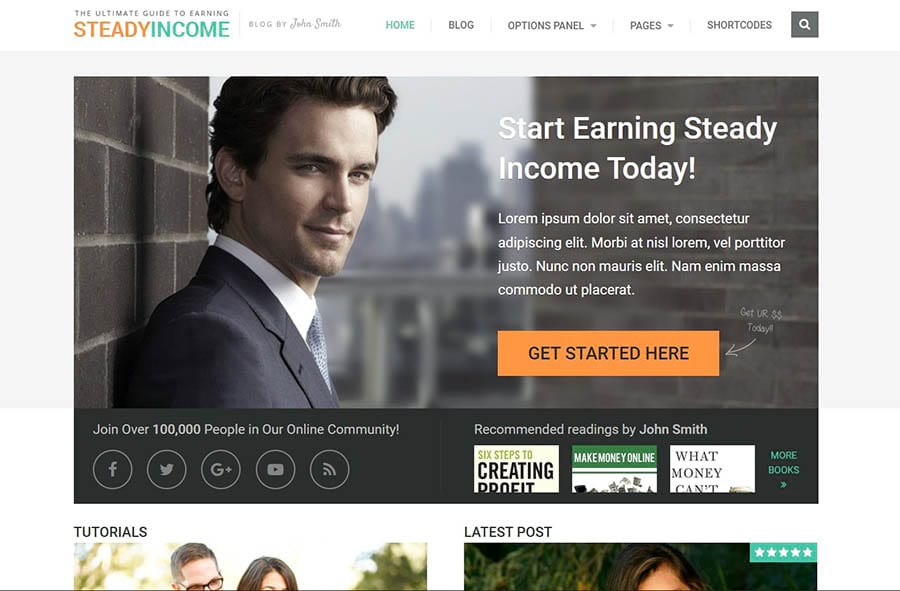 Affiliate marketing can be one of the most effective ways to turn a profit. Getting users to spend time on your site is the crucial first step of this process.
If you're looking to make a positive impression right away, SteadyIncome can help with features like:
We recommend choosing SteadyIncome if you're prioritizing new customers over repeat ones. The bold, professional design can help establish trust quickly. This, in turn, can help you make sales more efficiently.
Pricing: SteadyIncome costs $39. This will also get you a year of updates and support for unlimited sites. If you change your mind, you can also benefit from the 30-day money-back guarantee.
13. Consulting Multipurpose Classic Elementor
With plenty of modern content areas, Consulting Multipurpose Classic Elementor is a simple way to showcase professional advice. However, that's not all it can do. You can also use this theme's organized format for advertising anything from your brand to the products you're promoting.
Plus, you'll get access to other features such as:
The option to sort affiliate partners into discrete categories
Attractive icons and blurbs for your products
Built-in tab formatting to help you highlight particular offers
You might want to consider Consulting Multipurpose if you plan to appeal to a more local audience. Features such as integrated Google Maps can help you emphasize a visual location. However, a more global approach is also possible thanks to an included multilingual plugin.
Pricing: For full functionality on a single site, Consulting Multipurpose will cost $75. There are a variety of premium add-ons as well, such as customization services and an extended support period.
14. Sensational
No matter how well-run your website is, marketing your content is key to boosting affiliate sales. As such, finding ways to show off as much of your work as possible can be essential.
Sensational can be the perfect tool for this challenge, with features like:
Plenty of room for content balanced out by lots of white space
Subtle professional touches, such as hovering effects and transition slides
Unlimited color schemes and backgrounds for countless customization options
You might particularly enjoy Sensational if you prefer a column-based approach. Sensational makes the most of this simple format with four different styles to choose from. That means you can spend less time tweaking designs and more time sharing your links.
Pricing: Sensational is currently available for free. It typically goes for $77, so now might be a smart time to give this theme a try.
15. Marketing Pro
A marketing funnel can be an essential tool for affiliate marketers. You start by offering surface-level information to new users and move them towards more detailed content as they get closer to purchasing. Marketing Pro can support this use with its cohesive design flow.
Other contributing features include:
A commanding banner at the top that leads into more sales-oriented formatting below
Nine pre-made templates to make redesigning your site easy
$72 worth of premium plugins
We recommend Marketing Pro if your affiliate offerings are face-to-face services. For example, you might be promoting a life coaching program. This theme focuses on the buyer's journey to secure conversions for long-term service plans.
Pricing: You can purchase Marketing Pro for $59. The theme offers an impressive amount of documentation, but to extend direct support to a full year, you can pay an extra $17.63.
16. Netube
Netube is a theme designed for building a video magazine. That means it enables you to showcase several videos at once. The large image spaces mean you can display accurate examples of your work without compromising on quality.
You might also appreciate this theme's other features, such as:
The option to organize content by criteria, such as highest rated or most views
Easy opportunities to allow user-generated video uploads
A subtle, dark design that allows your videos to stand out
We've covered a lot of themes that accommodate written content. Netube stands out as one that prioritizes media instead. If you work with a lot of videos, we highly recommend checking Netube out.
Pricing: Netube is available for $59. This will also give you access to any future updates, so you don't have to worry about your theme becoming obsolete.
17. iffiliate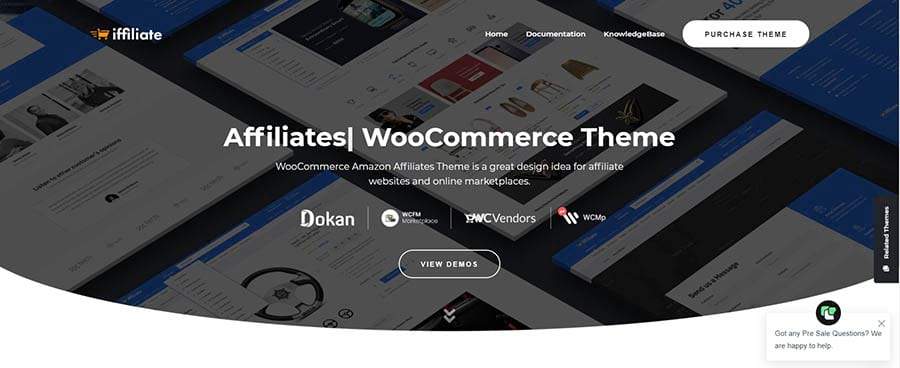 There are plenty of high-quality themes that can support your affiliate marketing strategy. However, sometimes what you need is a specialized approach to help you focus on your goals. When it comes to promoting your partners' products, iffiliate is one of the top tools for the job.
It includes features like:
A bundled mega menu plugin for better navigation
Ajax live search that makes for a more dynamic UX
Seamless integration with the Amazon Affiliate program
We'd recommend iffiliate if you're building a more traditional ecommerce-style site. For example, you can create single-product pages to advertise each partner's items. You can then replace the checkout links with your affiliate URLs.
Pricing: You can purchase iffiliate for $59. This comes with six months of support, but you can extend this to 12 for an additional $17.63.
The Right Themes Make All the Difference
Let's face it: being an affiliate marketer can be tough. Fortunately, choosing the right tools can make all the difference. By carefully picking your WordPress theme, you can set your website up for success.
This article walked you through 17 of our favorite themes for affiliate marketing. We've considered everything from minimalist designs to media-heavy approaches. We'd recommend checking out the demos for your favorites and testing them fully before settling on your final choice.
If you want to earn more commissions, picking the right theme counts. However, your website also has to perform at its best and provide a top-notch user experience. For that, check out our DreamPress hosting plans!
Do More with DreamPress
DreamPress' automatic updates and strong security defenses take server management off your hands so you can focus on content creation.